Dragonfruit and Hibiscus Solid Shampoo
Regular price
Sale price
$16.00 USD
Unit price
per
Sale
Sold out
Uncover hidden luxury with the Dragonfruit & Hibiscus Solid Shampoo. This indulgent shampoo bar features a tantalizing combination of dragonfruit and hibiscus fragrances that provides an enchanting aroma and immersive cleansing experience. Perfect for those seeking a tropical treat.

Solid shampoo that is great for your hair, the planet and the people on it! Our shampoos are made with plant based surfactants, and is sulfate free. Formulated for all hair types, your hair will feel softer, lighter and shine from root to tip. Each bar is in compostable packaging, and  replaces 2-3 plastic shampoo bottles. These concentrated bars produce an abundant lather on wet hair, and the bubbles deliver Baobab seed protein. This protein targets anti-aging by repairing damage and increasing hair strength. It protects from UV damage and moisturizes hair. Your hair will feel smoother and less frizzy. What's even more is these Baobab seeds are harvested using ethical and sustainable methods that support local communities in Africa. If you were considering giving solid shampoo a try, there no better time than now.
Net wt. 3oz| 85g

Directions: Once hair is fully soaked with water take the bar and rub it between your wet hands to create a lather, or directly onto hair. A few strokes across wet hair will get a rich foam going. Massage lathered hair and scalp with fingers. Rinse away and follow with Salty Wench Soap's Solid Conditioner.
Ingredients: sodium cocoyl isethionate, sodium lauryl sulfoacetate, cetyl alcohol, behentrimonium methosulfate (and) butylene glycol, stearic acid, cocamidopropyl betaine, argan oil, hemp seed oil, fragrance (and) essential oil blend, hydrolyzed baobab protein, panthenol (Pro-Vitamin B5), phenoxyethanol (and) caprylyl glycol (and) sorbic acid, FD&C lakes CI42090/16035/45410
Specifics

All soap is made using the cold process soaping method with nourishing oils and butters to enhance each bubbles benefits.

Due to the handmade nature, there may be slight color/design variations amongst each bar. This does not affect the quality of soap in anyway, in fact we find it makes each bar that much more unique. Bars are cut by hand and weigh approximatly 4-5 oz or 145.7 g. unless otherwise stated on the listing.
Share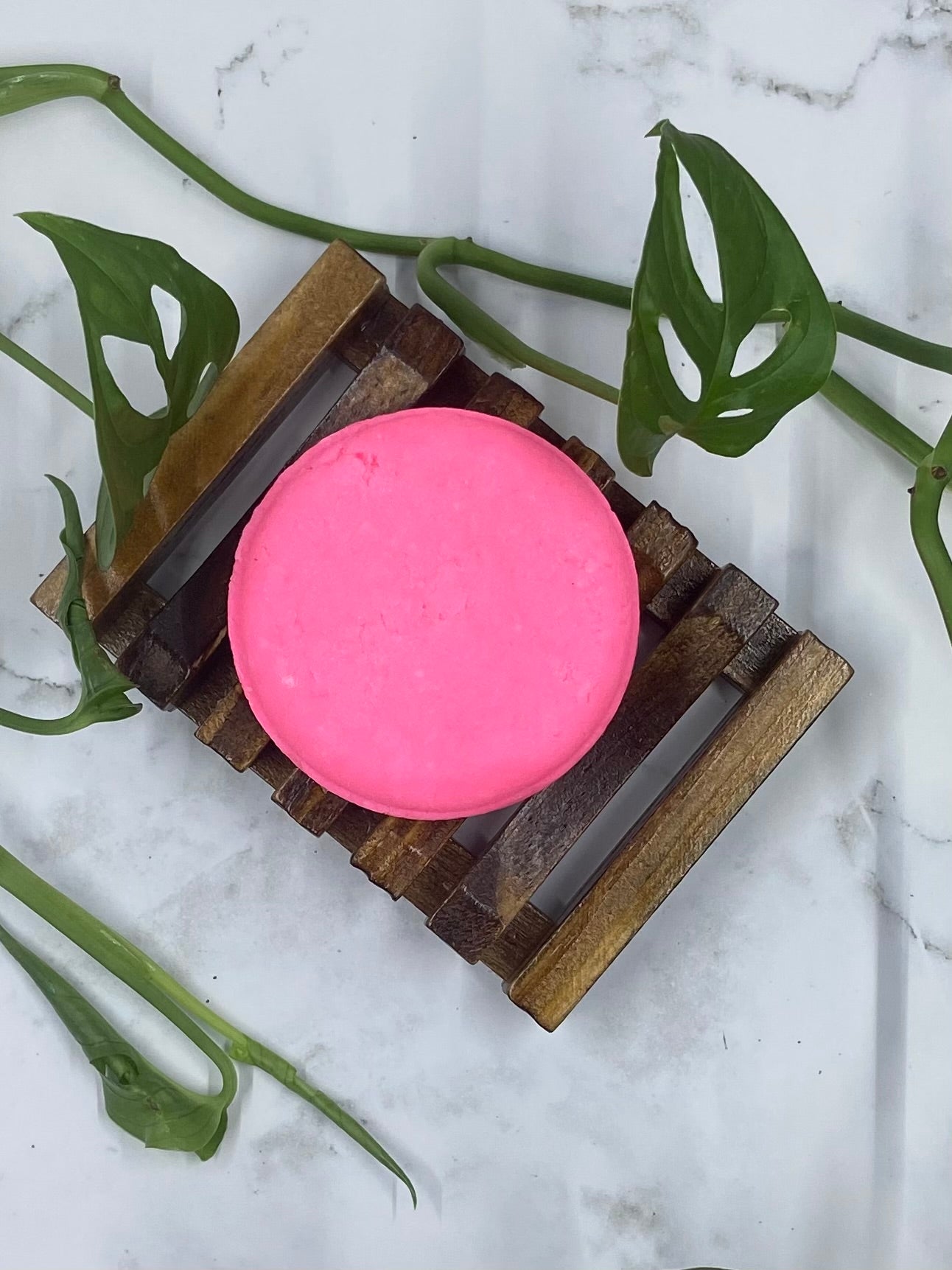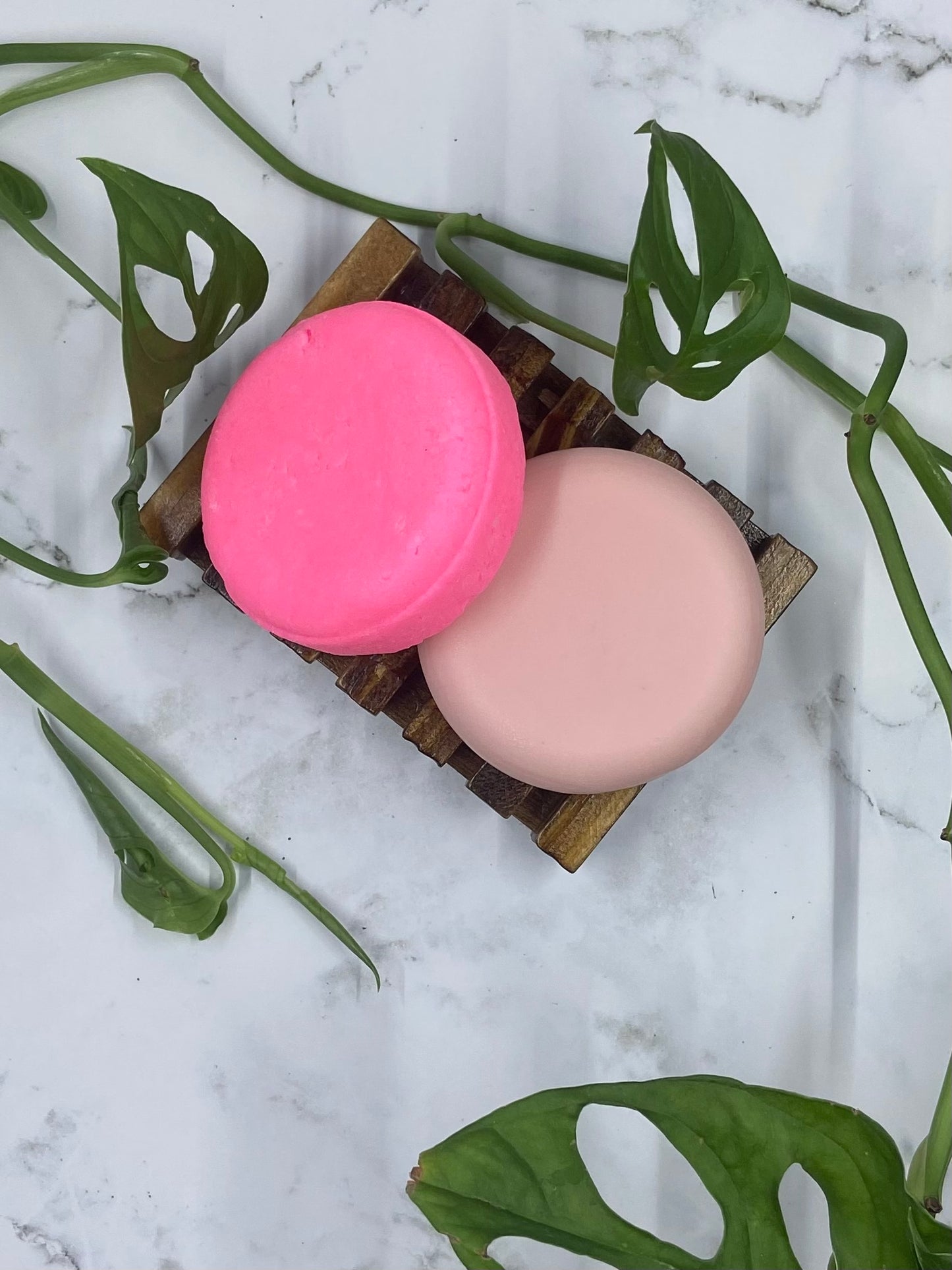 SHINY AF
I've always been skeptical that shampoo bars will work as well as "regular" shampoo. Let me be the first to say I was VERY wrong. This stuff lathers like a dream, smells amazing, and leaves my hair soooooo shiny. Highly recommend, 10/10.
LOVE the shampoo bar. Highly recommend. It's smells amazing too. Lathers up so well. First time ever using shampoo in bar form. Never going back to the bottles of goo. I will definitely be a repeat customer.
Amazing Shampoo bar!!
I absolutely love this shampoo bar! The scent is so refreshing, not too sweet and not too potent. Just a perfect blend! And the bar lathers up so nice, it makes it so easy to get the shampoo throughout your hair. You can instantly tell how much it has cleaned your hair, but mine did not feel stripped at all. Combined with the conditioner bar, my hair is left so soft! I have a slight wave to my hair (not super curly, but definitely not straight), and I find that it somehow brings out the curls a little more. Highly recommend!
PERFECTION!!
Where to start?! This shampoo bar is AMAZING! From the ingredients to the lather & the smell, it's incredible. I've tried many shampoo bars & while most of them were good they just weren't great. I've finally found the ones & out of our family of 4 there's 3 of us that use this. The only reason only 3 of us use it is because one is bald, haha. Buy the shampoo & conditioner bars you absolutely 💯% will be so glad you did!!
Bonus, the owner is an absolute gem!!