Hammer's Hands (Formerly known as Lumberjack)
Regular price
Sale price
$10.00 USD
Unit price
per
Sale
Sold out
For those with true grit: A bar designed for working hands. Packed with Pumice sand, this bar brings down the hammer on tough callous skin. With shea and avocado oil to help restore moisture. The fragrance is complex with notes of bergamot, leather, lavender, geranium, cypress, and sandalwood & tobacco. Simply put it's a smoky and slightly sweet smell. If you are looking for a more natural replacement to a pumice soap- look no further.
Ingredients:
Saponified: Olive Oil, Organic Coconut Oil, Shea Butter, Cocoa Butter, Sustainably sourced Palm oil, Organic Avocado oil, castor oil, sunflower oil

+ Phthalate Free Fragranceoil, Pumice Sand, Colorants, Sodium Lactate & Love.
Specifics

All soap is made using the cold process soaping method with nourishing oils and butters to enhance each bubbles benefits.

Due to the handmade nature, there may be slight color/design variations amongst each bar. This does not affect the quality of soap in anyway, in fact we find it makes each bar that much more unique. Bars are cut by hand and weigh approximatly 4-5 oz or 145.7 g. unless otherwise stated on the listing.
Share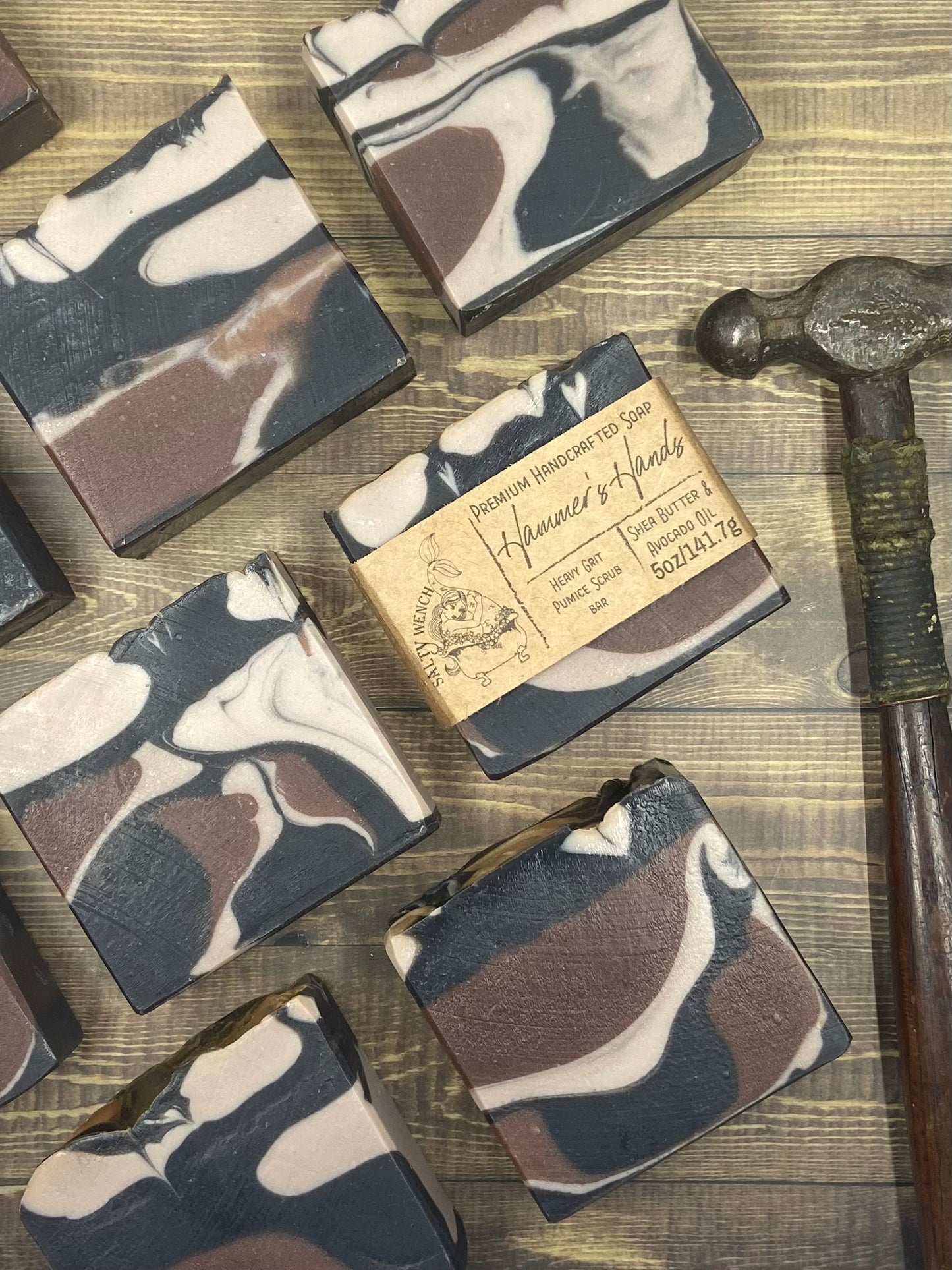 Works great!
I started using this bar about two weeks ago and used it on my upper back/shoulders(where I tend to sweat and break out bad in the summer heat). In two weeks my shoulders feel smoother then I've ever felt them and I haven't broken out since using it. I swear by this stuff!
Perfect for Feet, Too!
I love using this bar for my feet when I am in between pedicures. The pumice sand does a great job of softening any rough patches and removing dead skin. Also works great as it's intended purpose- I use it on the palms of my hands in the shower to smooth away any roughness or callus.